Regular price
Rs. 400.00 INR
Regular price
Sale price
Rs. 400.00 INR
Unit price
per
Sale
Sold out
Share
About
Two words: Nutritiously Delicious. If you're looking for something delightful to add to your favourite meal, this is it! Sattvic Foods Nutritional Yeast guarantees super umami goodness that'll satisfy your inner cravings. Famous for its distinctive cheesy flavour, this nutritional yeast is 100% whole food based and is non-fortified meaning, no synthetic man-made vitamins were added. Sattvic Nutritional Yeast always chooses to have a healthier alternative that will not compromise one's health. This nutritional, non-genetically modified organism (non-GMO) yeast is naturally filled with amino acids, B vitamins and minerals, fibre, and a great source of protein. 
And did you know that since nutritional yeast is considered a low-glycemic food, it assists in regulating blood sugar levels? It means that you'll have fewer cravings, which is beneficial when you are on a diet and yes, of course, it lessens the risk of many metabolic issues such as obesity. This is also particularly favourable for vegans who love to enjoy a "cheese-like" flavour without the use of any dairy or other milk products. It's best for salads, different kinds of pasta, popcorn, and a whole bunch of snacks. However, this nutritional yeast must not be confused with active dry yeast since this is not meant to make the bread dough rise and brew beers and wine. Now, why not try and indulge yourself with our Sattvic Foods Nutritional yeast? No more guilty feelings while enjoying this creamy, nutty superfood!. We promise you hearty food goodness with loads of greatness!
How To Use
Use as a thickener in soups and sauces

Sprinkle over some delicious pasta or pizza

Add to dips for a cheesy flavour
Health Benefits
Boost energy levels- Nutritional yeast is an excellent source of vitamins, minerals, and high-quality protein. Due to their nutritional content, yeast flakes may increase a person's energy, support their immune system, and offer additional health benefits
Support the Immune System- This can support the immune system and reduce inflammation resulting from bacterial infection.
Improve Glucose Sensitivity- Yeast Flakes could lower fasting blood glucose levels and cholesterol.
Healthy Skin- Some research suggests that nutritional yeast can combat brittle nails and hair loss. It may also help reduce acne and improve other common skin problems, particularly in adolescence.
Why Buy Ours
Cheesy Goodness- This is perfect for individuals who love to eat food and snacks with a nutty, cheesy, and creamy umami goodness taste. Sattvic Nutritional Yeast can be sprinkled with your favourite kinds of pasta and popcorn for added flavour and it can also be used in some vegan food like tofu pops. 
Non-Fortified- Most Nutritional Yeast products are fortified with synthetic B vitamins, but not this one! No synthetic man-made vitamins are added, this product is sold completely natural. Fortified Nutritional Yeast is equivalent to taking a vitamin pill, but this is the real deal.
Halal and Vegan-

 Although it tastes as if it came from a dairy product, it is not. This cheesy ingredient is Vegan & Halal. That's the best thing about Sattvic Natural Yeast, you'll enjoy every bite without fright!

Undeniably Healthy- Sattvic Nutritional Yeast is guaranteed natural and does not use synthetic vitamins as an ingredient. Rich with natural minerals and vitamins like Amino Acids, Vitamin B2, Fiber, and Protein. This truly helps people to achieve a healthy weight since it boosts metabolism.
Superfood- Consuming natural yeast is like an intake of vitamins and minerals. It has Vitamin B2, Calcium, and Iron. Not only that, but it is also very rich in protein and fibre which is great for maintaining a healthy weight and being fit.
✔ Free sample is a single serving (3-15 g) for trial
✔ Get a free sample for every Rs. 500 of purchase
✔ Add a product other than items being purchased
✔ Free Sample must be added before Checkout
View full details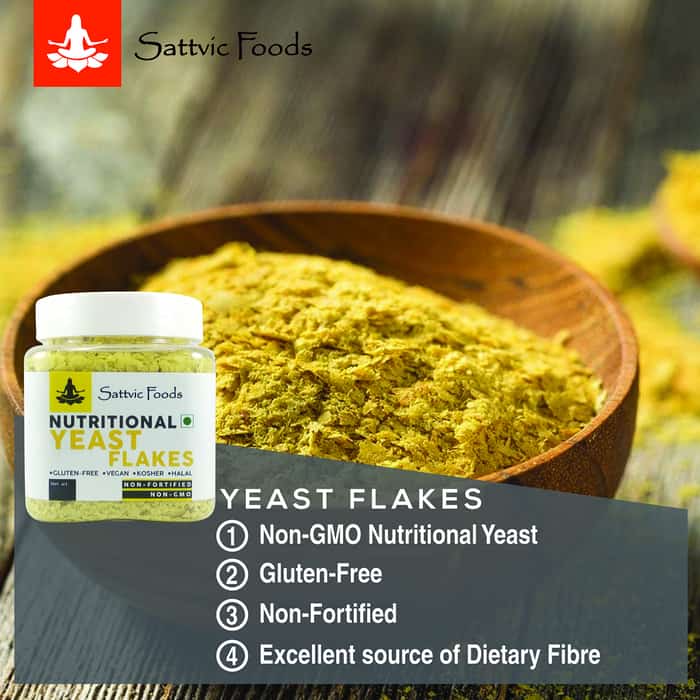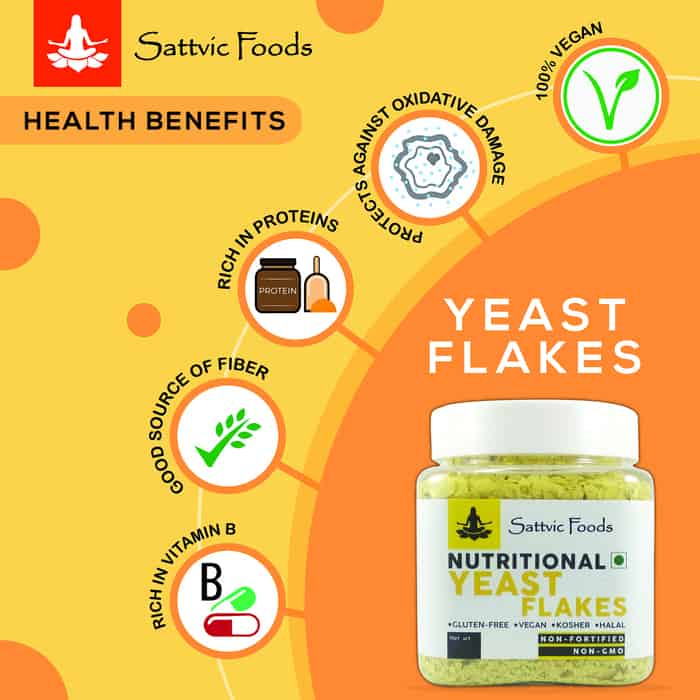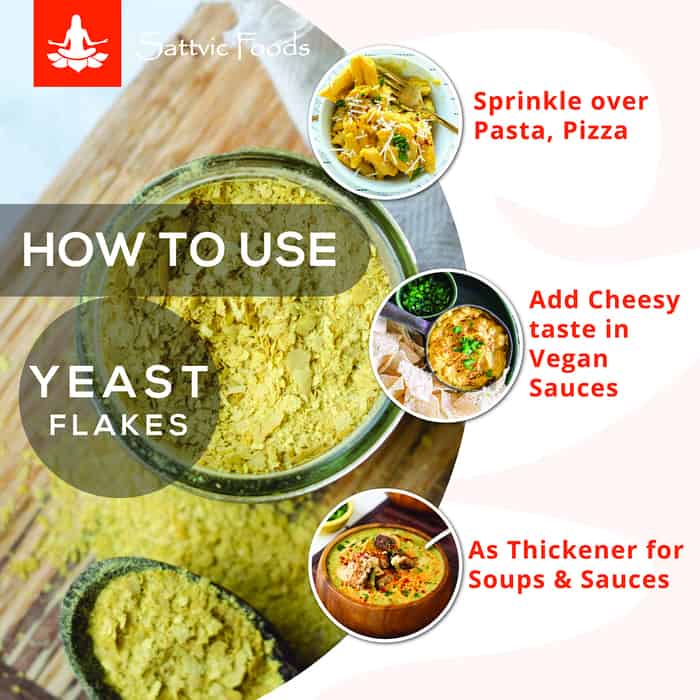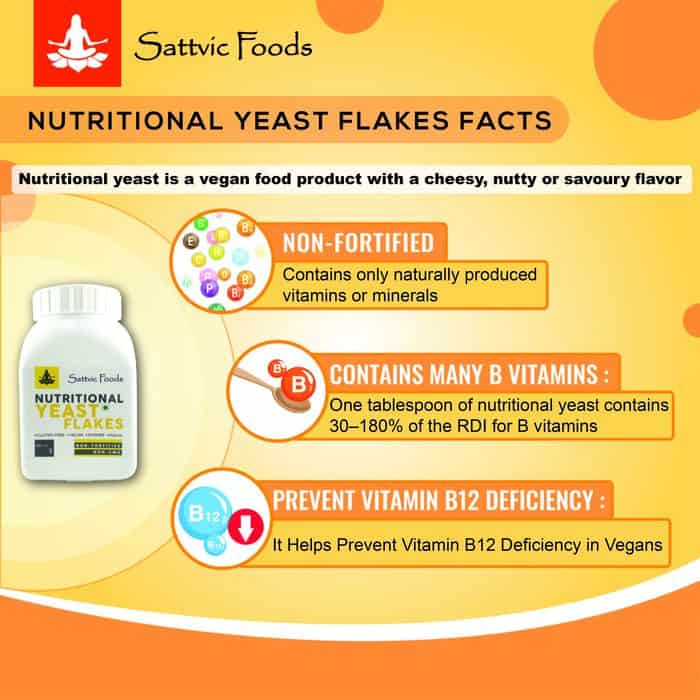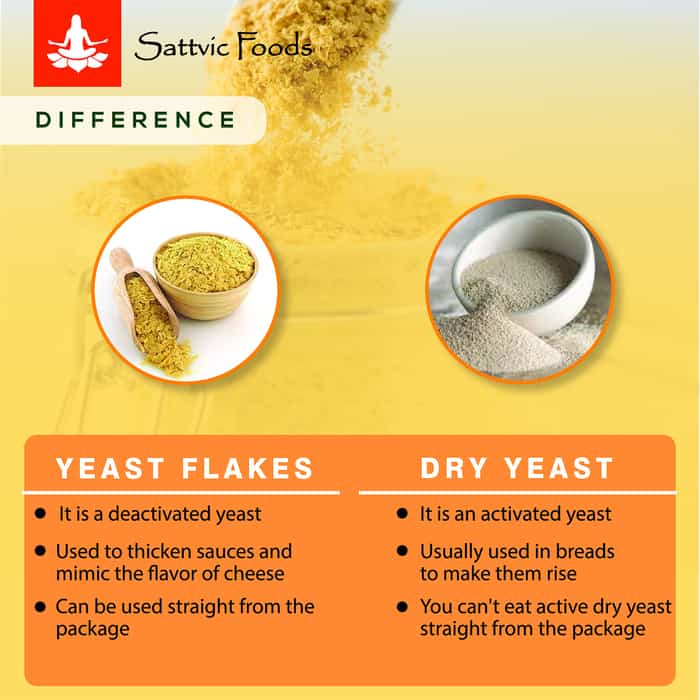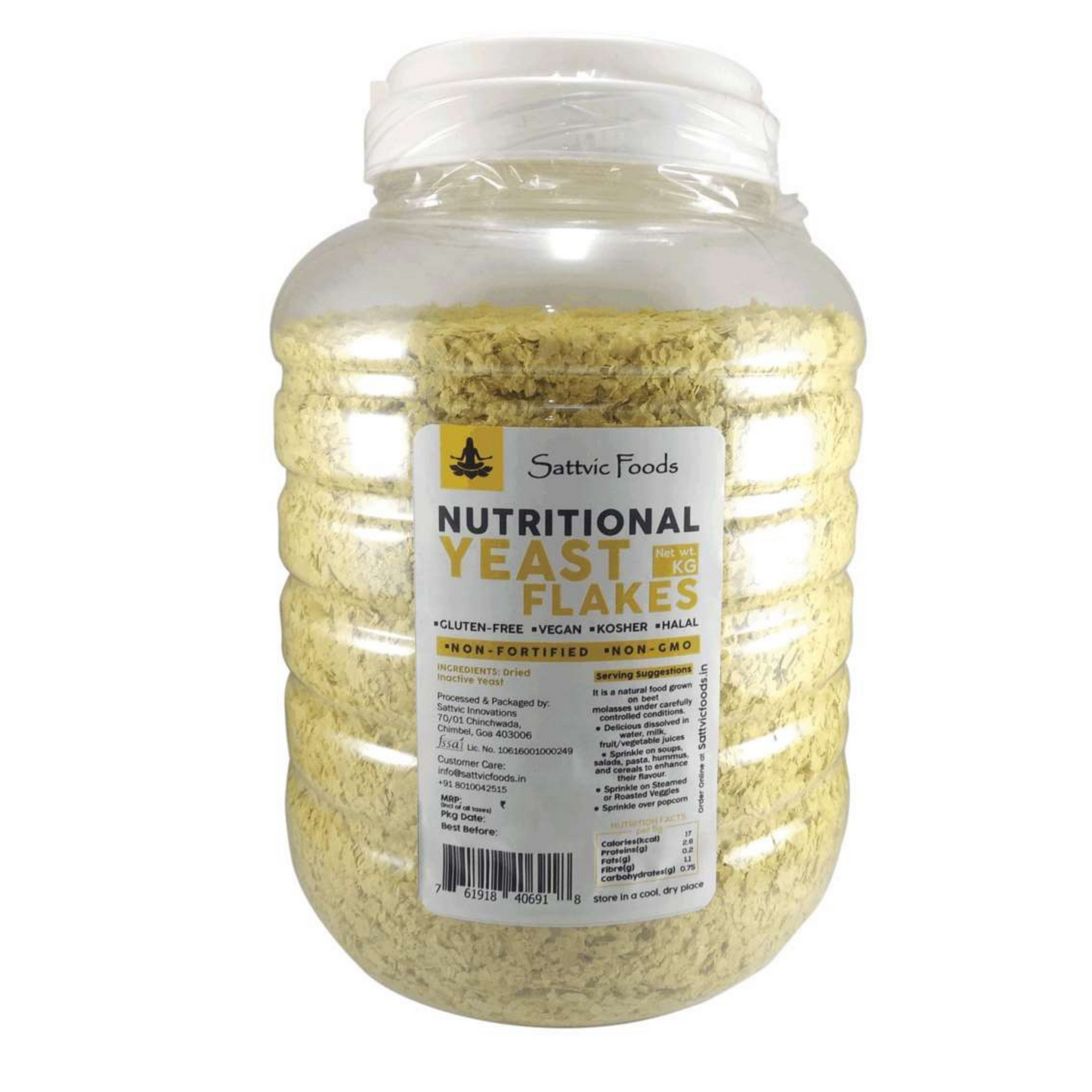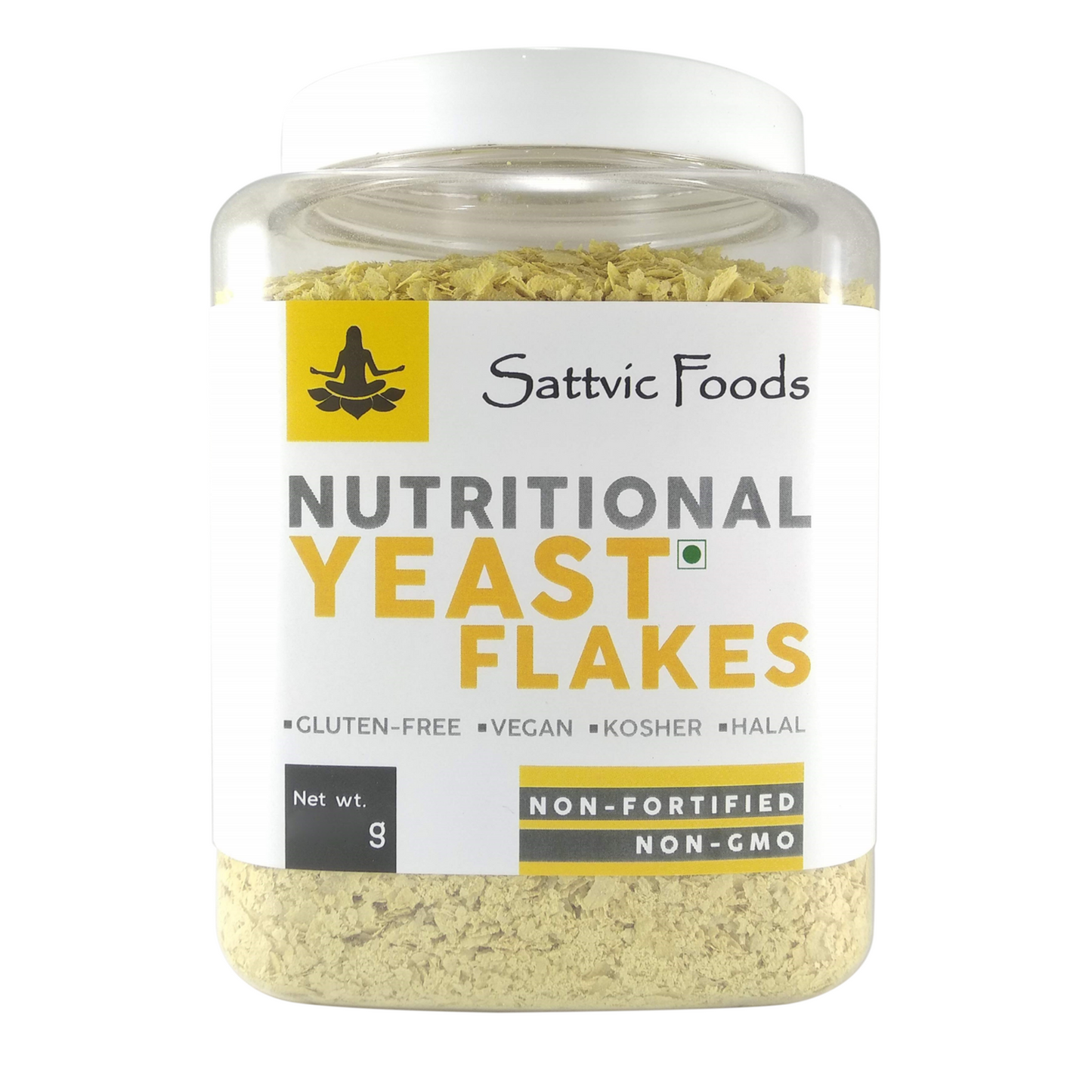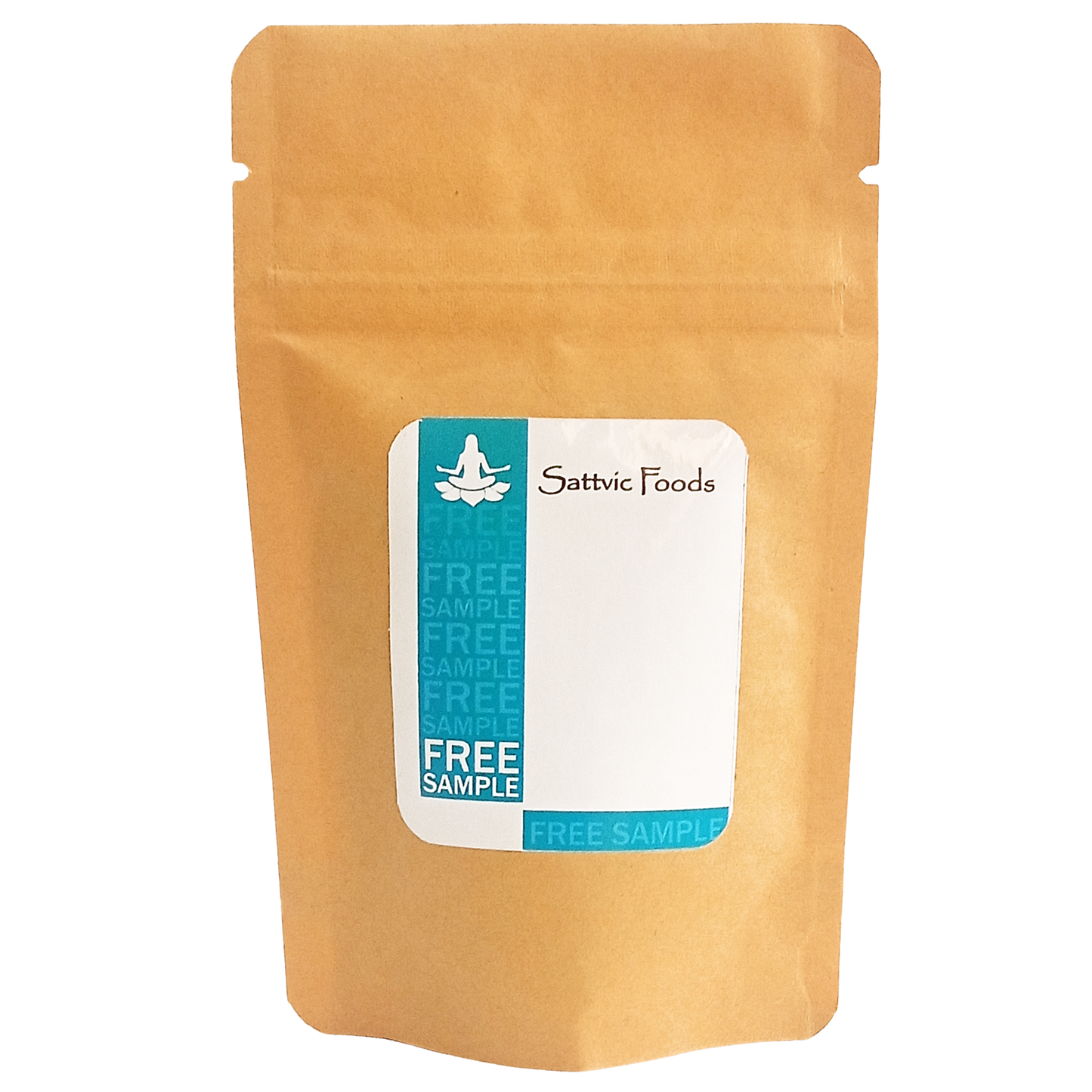 Collapsible content
Delivery Information

Orders are shipped within 2 business days from payment. Delivery ranges from 3-9 days depending on your location.
About Us

Sattvic Foods is committed to your complete satisfaction. We assure you that every purchase is pure and of the highest quality available. If for any reason you are unsatisfied simply email us at info@sattvicfoods.in or reply to your order email.