Regular price
Rs. 150.00 INR
Regular price
Sale price
Rs. 150.00 INR
Unit price
per
Sale
Sold out
Share
About 
Our sunflower seeds are a healthy and delicious snack. These sunflower seeds are premium in size and taste. They're an excellent source of protein, fibre, and minerals. They have high vitamin E, dietary fibre, and iron content and are also protein-rich. Sunflower seeds are a healthy snack for children as well as those people who are allergic to nuts. 
A light, healthy, tasty snack to be enjoyed anywhere at any time.
The Raw sunflower seed is a gift of the beautiful sunflower that has rays of petals emanating from its bright yellow, seed-studded centre. These seeds are rich in vitamin B complex, vitamin E, magnesium, selenium, calcium, and proteins. They are useful in lowering cholesterol, inflammation, and osteoporosis while boosting immunity. 
Source 
Our Sunflower seeds are grown and hulled in Latur, Maharashtra. We are one of the few sellers of domestic seeds while most others sell imported. 
How To Use 
These healthy seeds are a source of great nutrition and can make a delicious snack straight out of the bag! You can also try combining them with salads, adding them to snack mixes, or baking with them. Their mild nutty flavour complements a wide range of dishes, particularly vegetables. You can also blend them into a pesto. Try this! 
Health Benefits
Maintain Cholesterol Levels- Sunflower seeds may help lower blood pressure, cholesterol, and blood sugar as they contain vitamin E, magnesium, protein, linoleic fatty acids, and several plant compounds.
Maintain Cardiovascular Health- A compound in sunflower seeds blocks an enzyme that causes blood vessels to constrict. As a result, it may help your blood vessels relax, lowering your blood pressure. The magnesium in sunflower seeds helps reduce blood pressure levels as well
Promote Body Energy Production- Sunflower seeds are rich in the B complex vitamins, which are essential for a healthy nervous system, and are a good source of phosphorus, magnesium, iron, calcium, potassium, protein, and vitamin E.
Enhances Immun System- Sunflower seeds are rich in healthy fats, beneficial plant compounds, and several vitamins and minerals. These nutrients may play a role in reducing your risk of common health problems and increasing your immunity.
Why Buy Ours 
Our seed sprouts are popular due to their great taste and rich source of nutrients, fibre, and healthy fats. The quality-approved array of Sunflower Seeds offered by us forms an essential part of one's diet. The rich content of vitamin E promotes good hair, skin, and nail health. The magnesium in it helps maintain brain health and reduces stress. The selenium in it helps control and prevent cancer cell growth.
Disclaimer 
Since our seeds are 100% natural and unprocessed they are at a high risk of rancidity. PLEASE REFRIGERATE IMMEDIATELY upon receipt.
✔ Free sample is a single serving (3-15 g) for trial
✔ Get a free sample for every Rs. 500 of purchase
✔ Add a product other than items being purchased
✔ Free Sample must be added before Checkout
View full details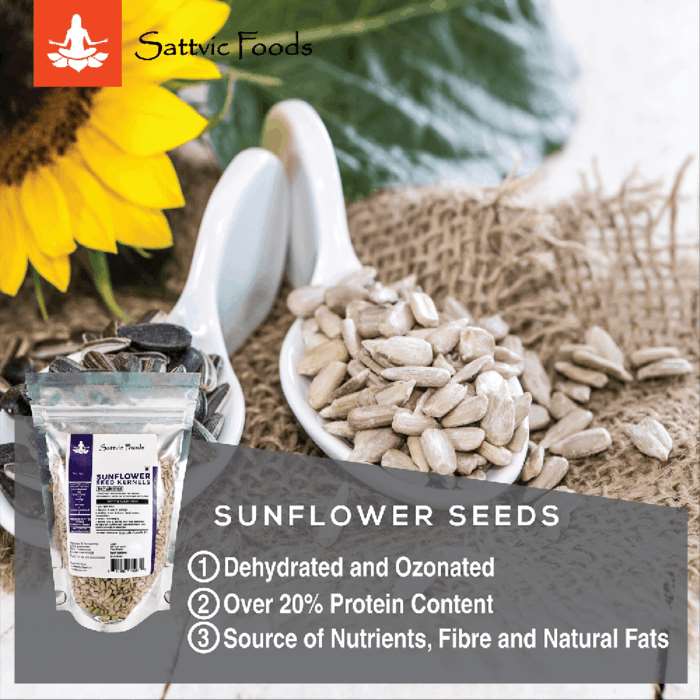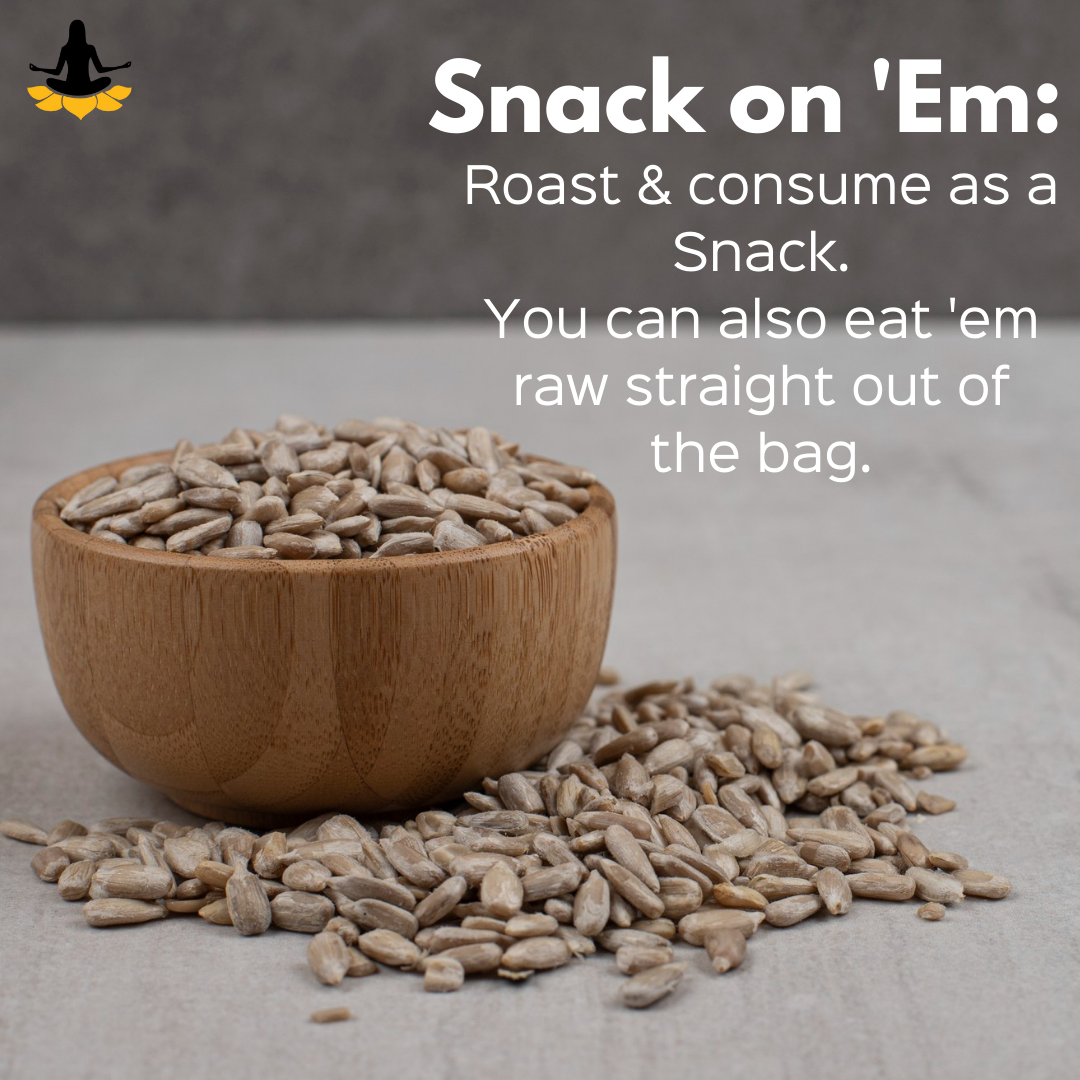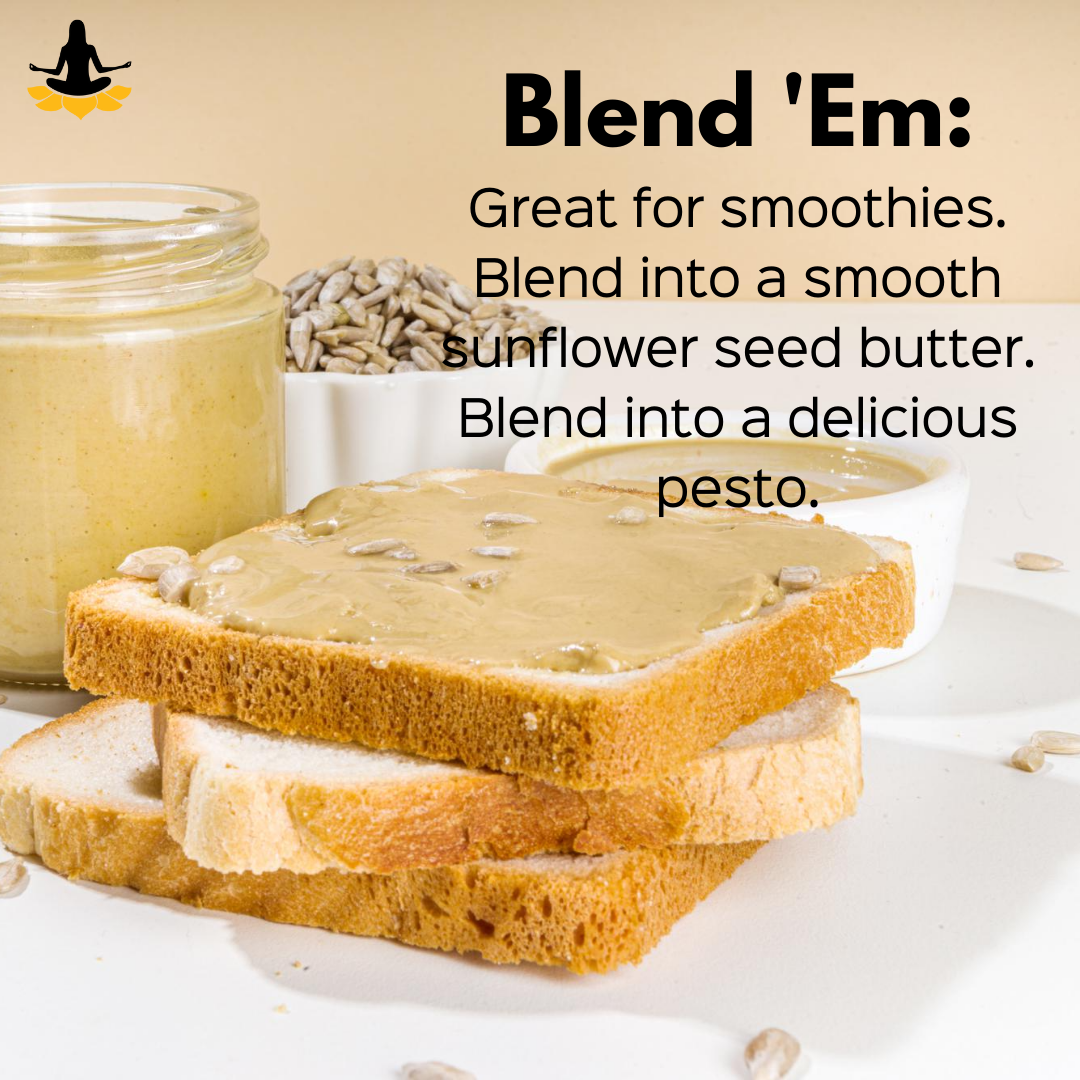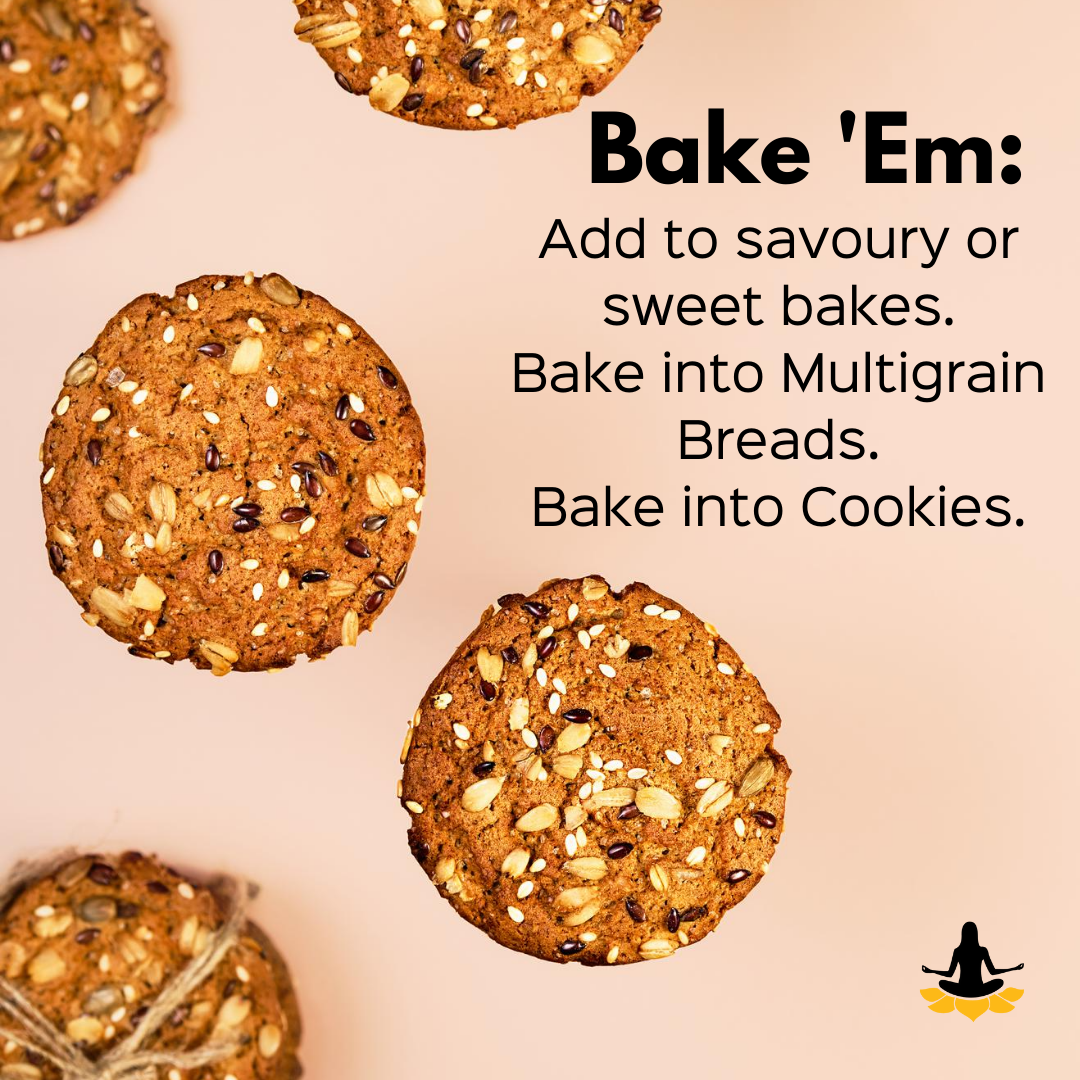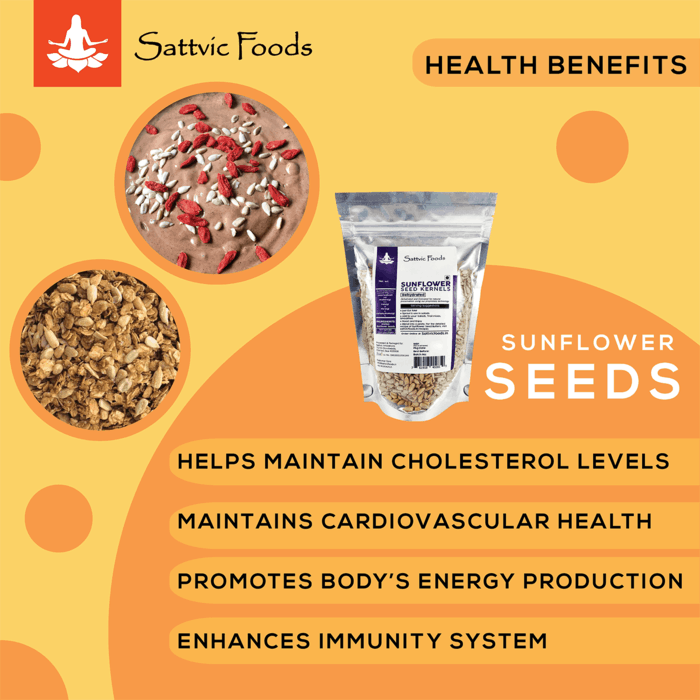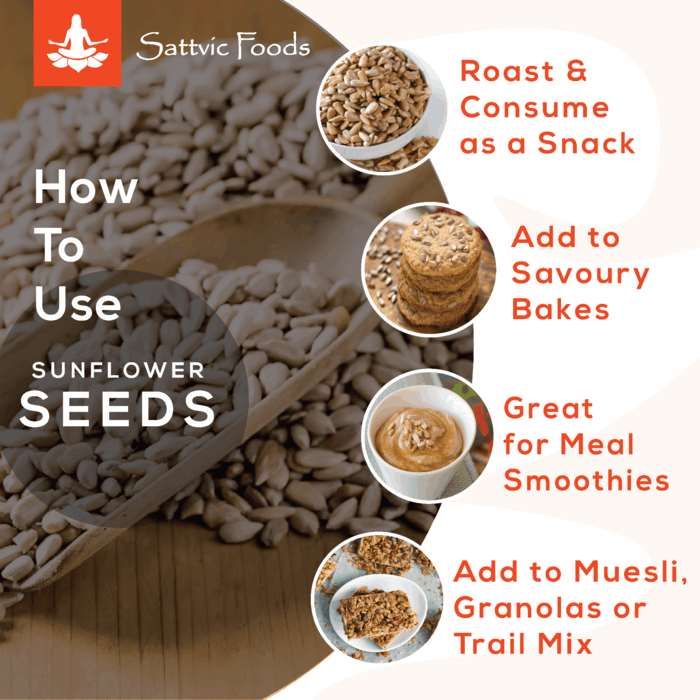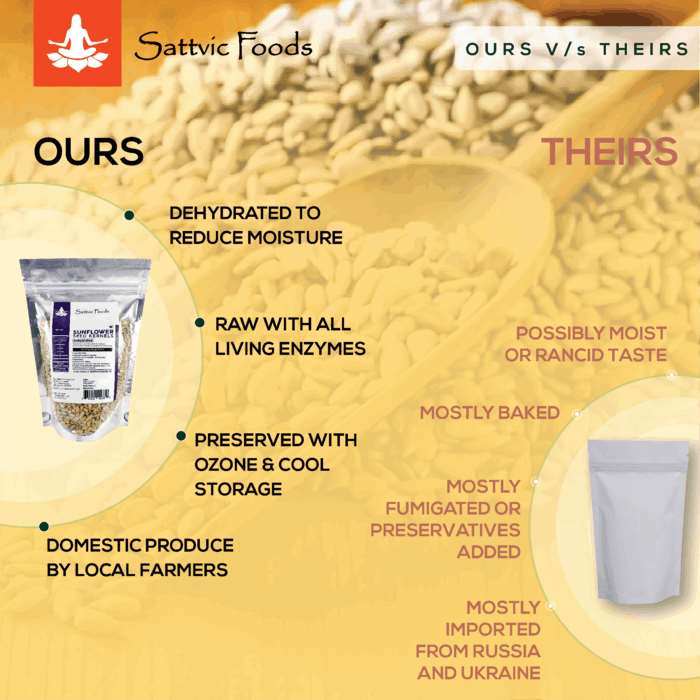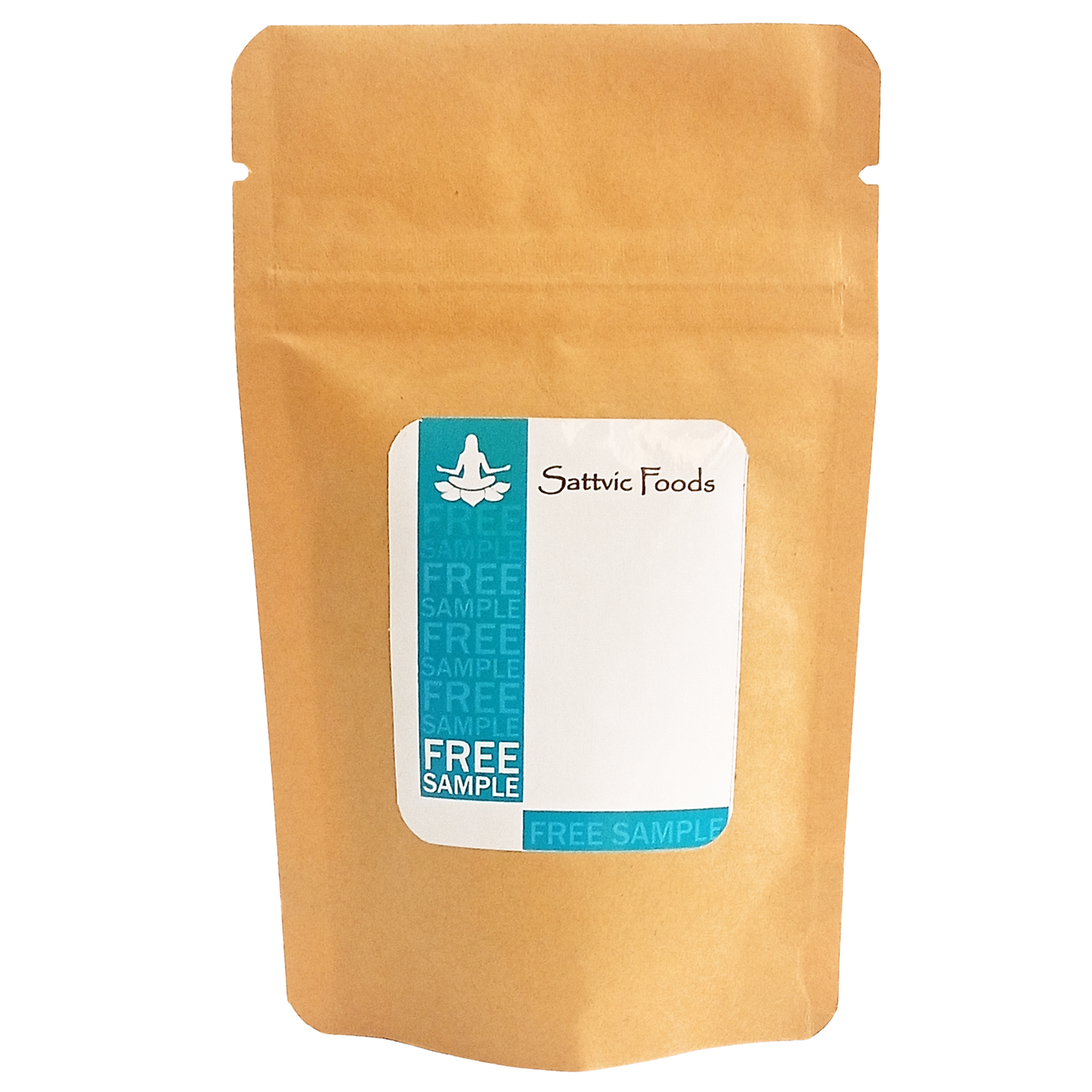 Collapsible content
Delivery Information

Orders are shipped within 2 business days from payment. Delivery ranges from 3-9 days depending on your location.
About Us

Sattvic Foods is committed to your complete satisfaction. We assure you that every purchase is pure and of the highest quality available. If for any reason you are unsatisfied simply email us at info@sattvicfoods.in or reply to your order email.