Regular price
Rs. 150.00 INR
Regular price
Sale price
Rs. 150.00 INR
Unit price
per
Sale
Sold out
Share
About
Basil seeds are one of our traditional superfoods. They were made famous through their indispensability for desserts such as Falooda. The recent hype around Chia seeds has reinvigorated the attention around these ancient seeds. They are the Indian equivalent of Chia seeds. People used it as food, in their religious ceremonies and fed it to their animals. Almost every health-conscious person these days knows about chia and how these seeds are a treasure trove of nutrients and can be a great dietary adjunct to supporting long-term health. These seeds are considered perfect food because they are one of the few vegetarian sources of complete protein. 

Source 
Direct from our farms in Madhya Pradesh, these are the freshest and best variety of Basil seeds in the country. We adhere to a strict quality check to ensure only the best seeds are packaged. They have the highest nutritional value and are used in traditional Ayurveda.
How To Use
Add to your fruit juice or lime water For some more ideas on how to use Basil Seeds

These seeds can be added to egg white omelettes and can be put on salads.

Add them to protein shakes.

Sprinkle them into cereals or mix them in yoghurt, oatmeal, pancakes, and cookies.

Add vegetables, salad, and cut fruits.

Blend into your milkshakes along with other nuts and fruits.

Add ground basil seeds into your chapatti dough.
Health Benefits 



Fibre- Basil seeds contain soluble fibre, which may promote gut health, blood sugar control, healthy cholesterol levels, and appetite control. 
Weight loss- Sabja seeds are known for their weight loss properties. It is full of fibre, which can keep you full for a long time, prevent unwanted cravings, and help with weight loss.
Detoxify- Sabja seeds naturally detoxify your body by regulating smooth bowel movements. It contains a volatile oil that helps in relieving gas from your gastrointestinal tract and acts as a stomach cleanser.
Antispasmodic- Basil seeds soothe the spasmodic muscles and help them relax. The antispasmodic property helps to control whooping w cough and helps in strengthening the body's immunity system.
Why Buy Ours
Our seeds are gluten-free, easy to digest, and don't have to be ground like flax seeds for better absorption. These seeds are large in size. These seeds boost athletic power.
Here is a great resource to know more about Basil Seeds, their benefits and how to use them
✔ Free sample is a single serving (3-15 g) for trial
✔ Get a free sample for every Rs. 500 of purchase
✔ Add a product other than items being purchased
✔ Free Sample must be added before Checkout
View full details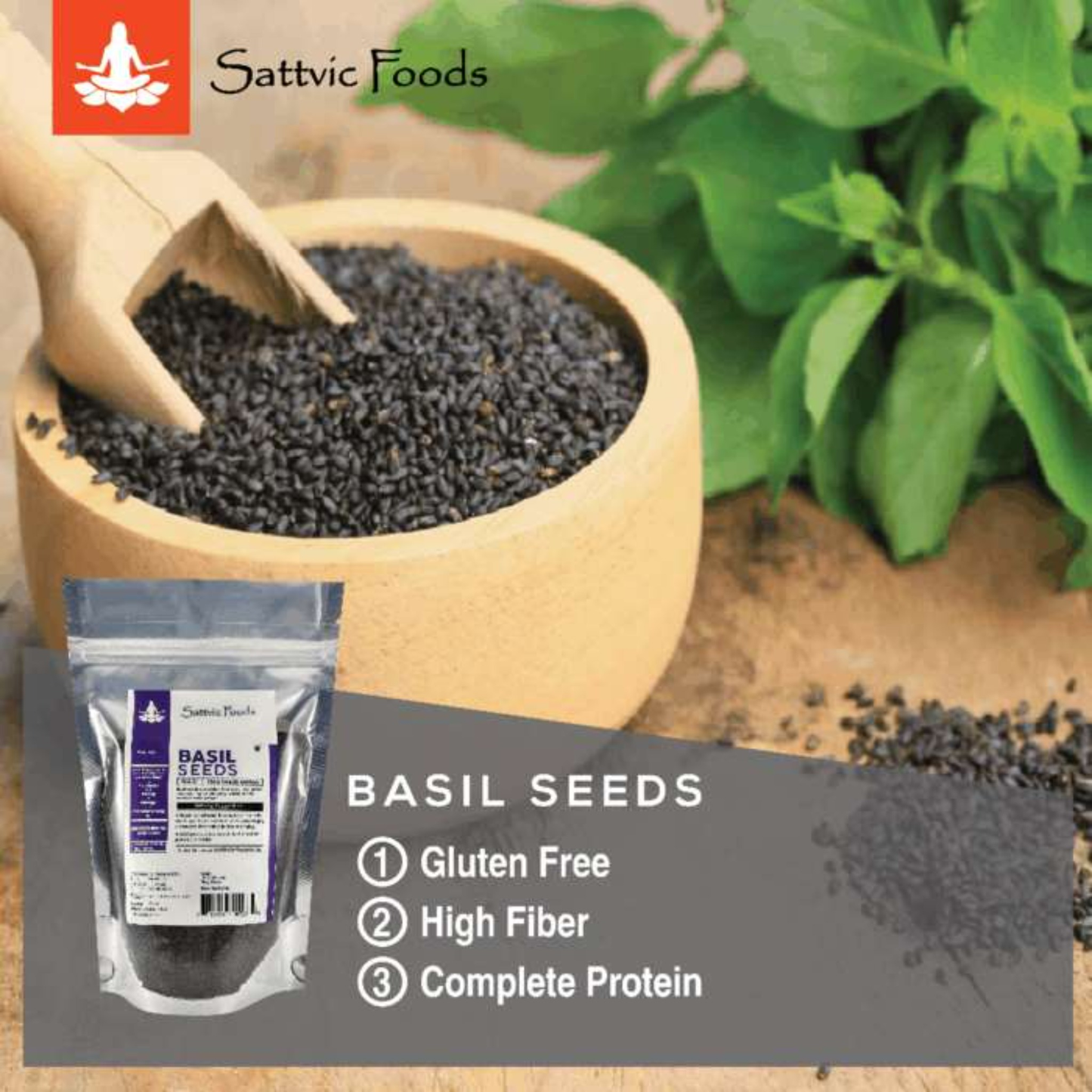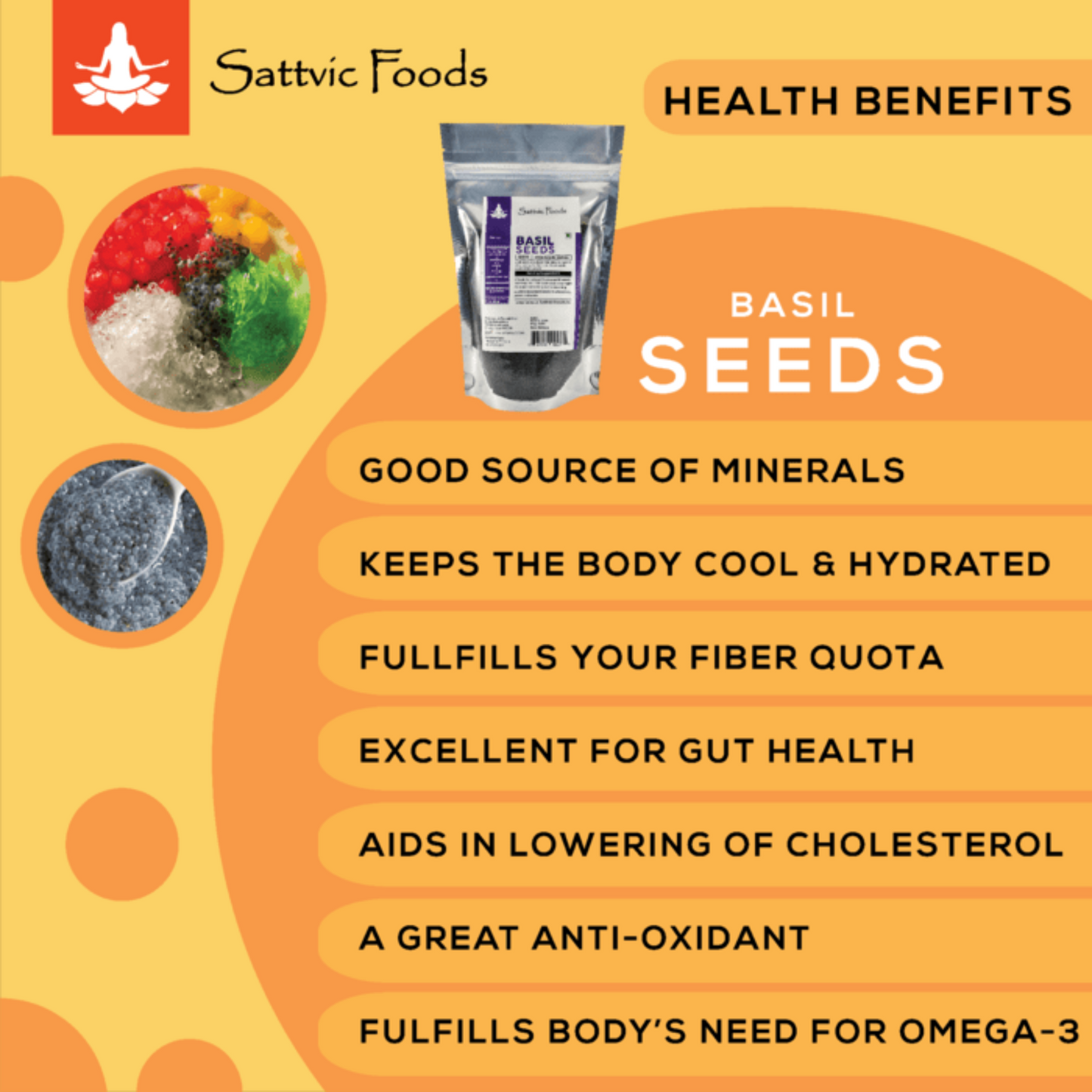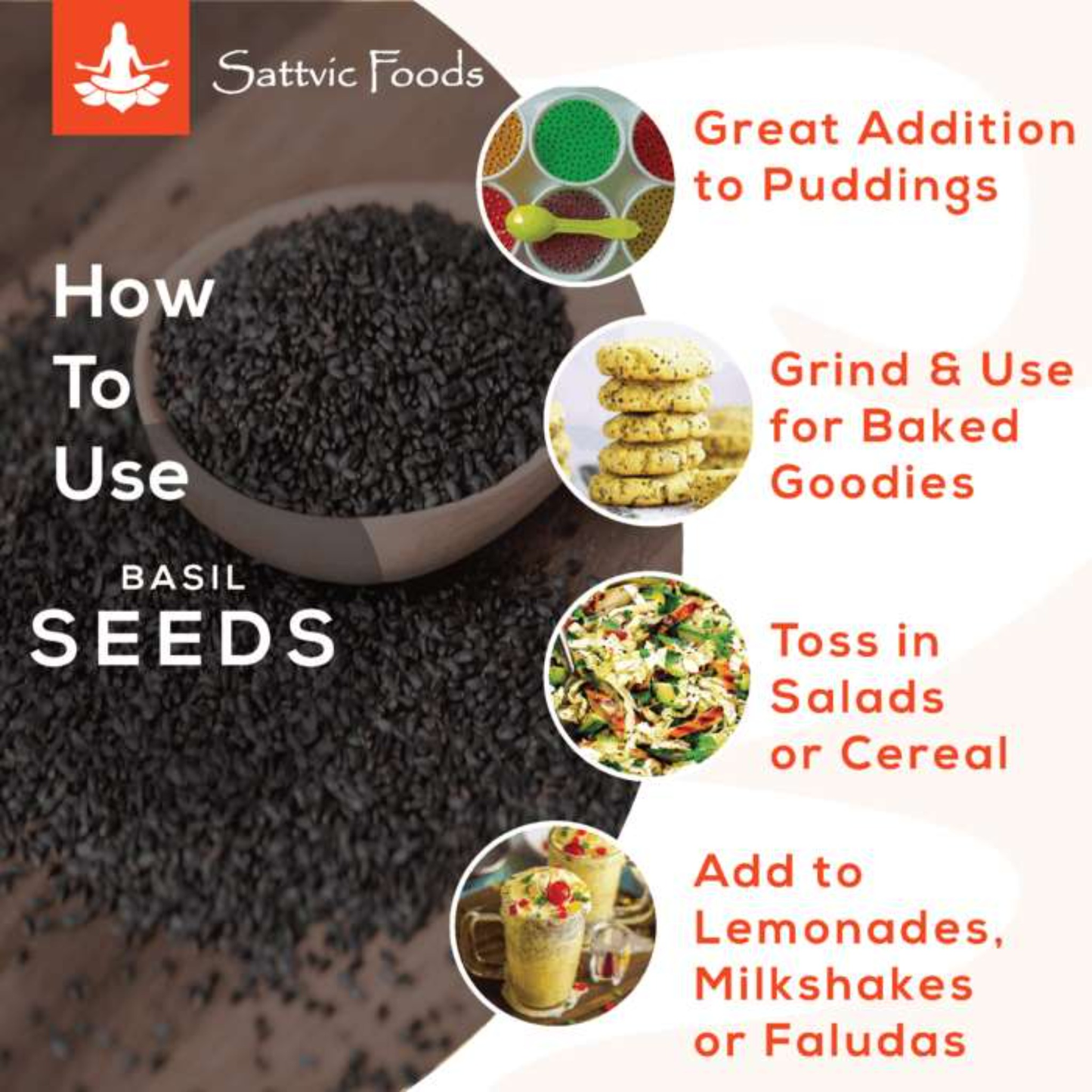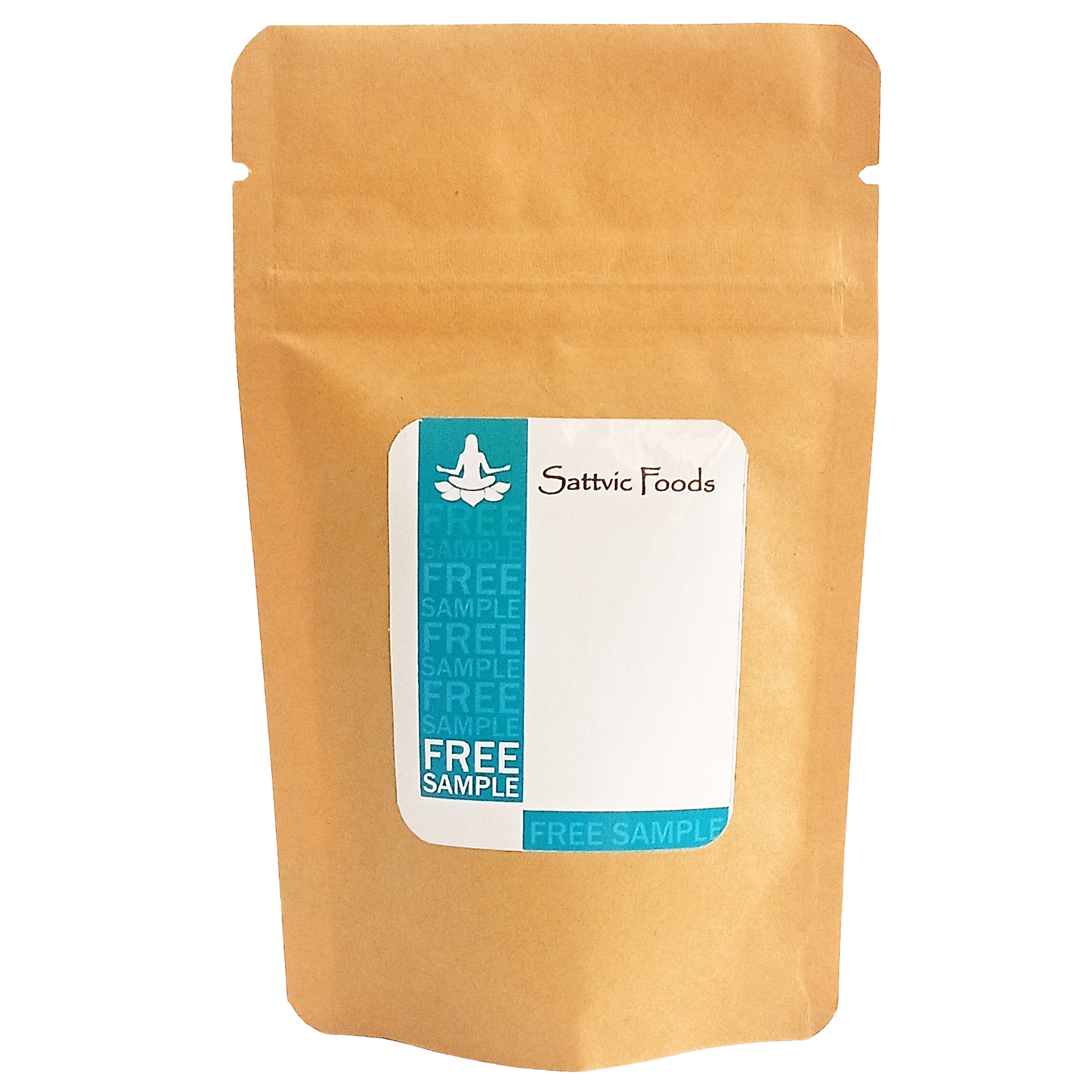 Collapsible content
Delivery Information

Orders are shipped within 2 business days from payment. Delivery ranges from 3-9 days depending on your location.
About Us

Sattvic Foods is committed to your complete satisfaction. We assure you that every purchase is pure and of the highest quality available. If for any reason you are unsatisfied simply email us at info@sattvicfoods.in or reply to your order email.