Regular price
Rs. 400.00 INR
Regular price
Sale price
Rs. 400.00 INR
Unit price
per
Sale
Sold out
Share
About
Almonds have been proven to improve skin, boost energy, and contain all sorts of vitamins and minerals. High in protein and Fibre, this defatted flour/meal contains less than 5% fat, whereas normal almond flour would contain more than 50% fat. The flour can be used for baking in the same way as other almond flour.
How To Use
Pancakes- For a nutty flavour, substitute almond flour to make pancakes.
Breading- Use almond flour in place of bread crumbs or flour to make a crust for fish or chicken tenders.
Brownies- Use almond flour to make incredibly fudgy brownies.
Biscuits- Make pleasantly delicious and nutritious cookies.
Health Benefits
Control Cholesterol Levels- Almond flour contains more than 65 per cent of monounsaturated fat which is excellent to maintain a healthy level of cholesterol. Moreover, it is found that the consumption of almonds could lower the chances of coronary heart disease by maintaining healthy blood vessels.
Healthy Fats- Almonds have a high content of healthy fats which boosts overall health and immunity
Control Blood Sugar- Almonds lower post-meal blood glucose levels, oxidative damage and the presence of insulin in the blood. It also increases the level of antioxidants in the blood.
Boost Energy Levels- Almond flour has healthy amounts of micronutrients, macronutrients and fats making it an excellent energy booster. It also contains manganese, riboflavin and copper which is an energy creators.
Why Buy Ours
Our Almond Flour is naturally gluten-free. 

High in protein and fibre, extracted by cold-pressing, the unblanched flour is light to dark brown in colour as the almond skin is ground together with the kernel. Thus giving it a stronger, more intense taste & aroma! The flour can be used for baking.

Our Almond flour is Unblanched and Finely Ground. Thus it is all-natural and has numerous health benefits.
✔ Free sample is a single serving (3-15 g) for trial
✔ Get a free sample for every Rs. 500 of purchase
✔ Add a product other than items being purchased
✔ Free Sample must be added before Checkout
View full details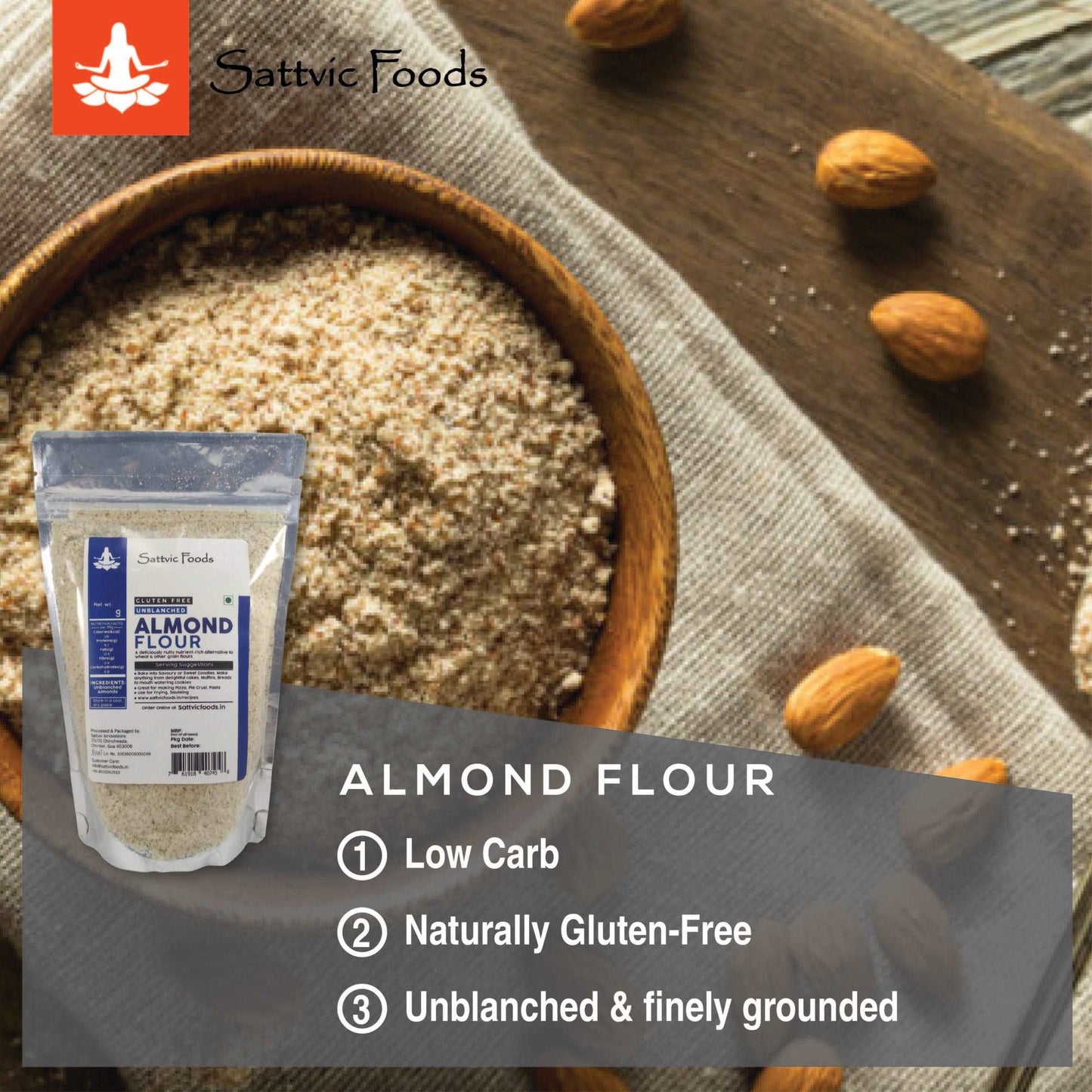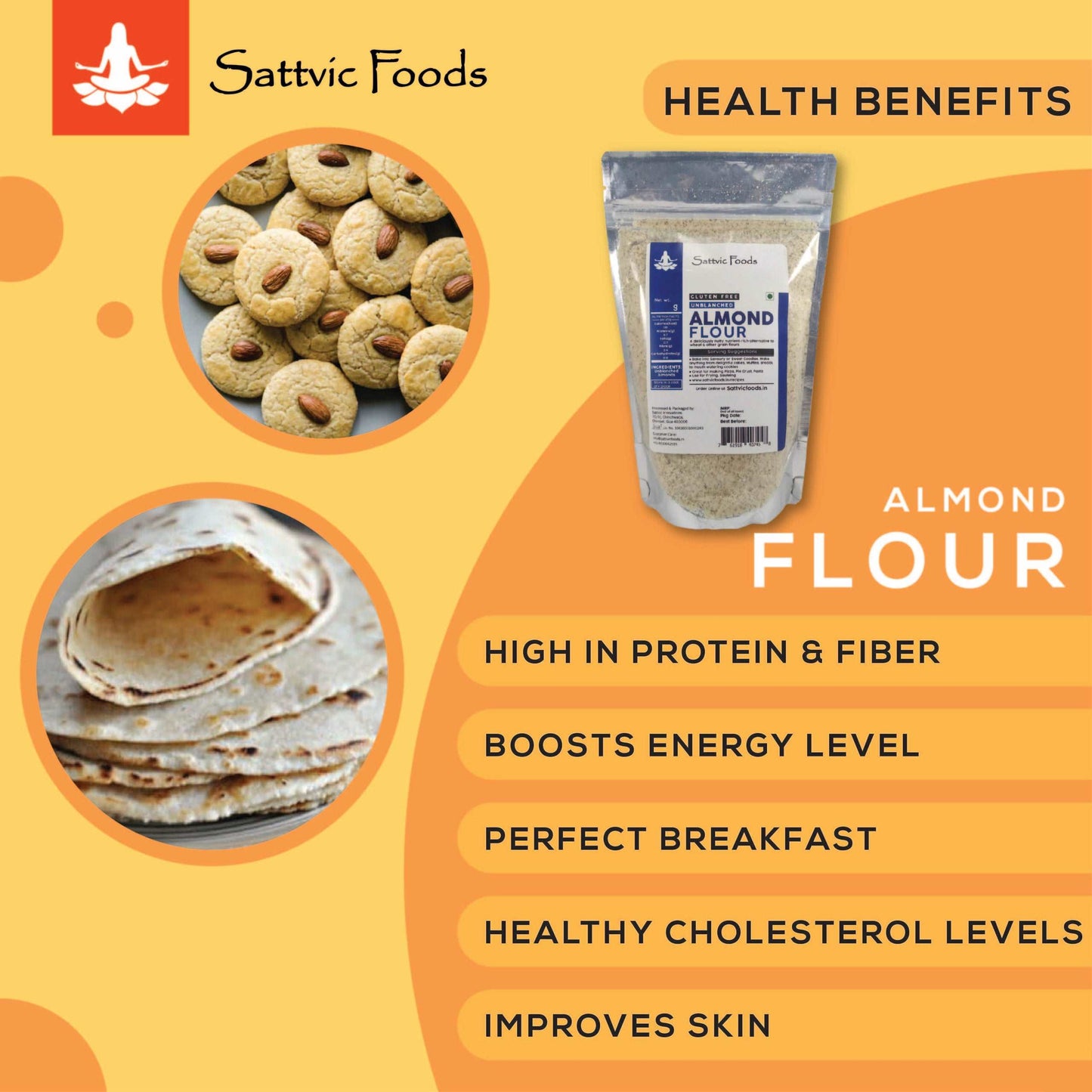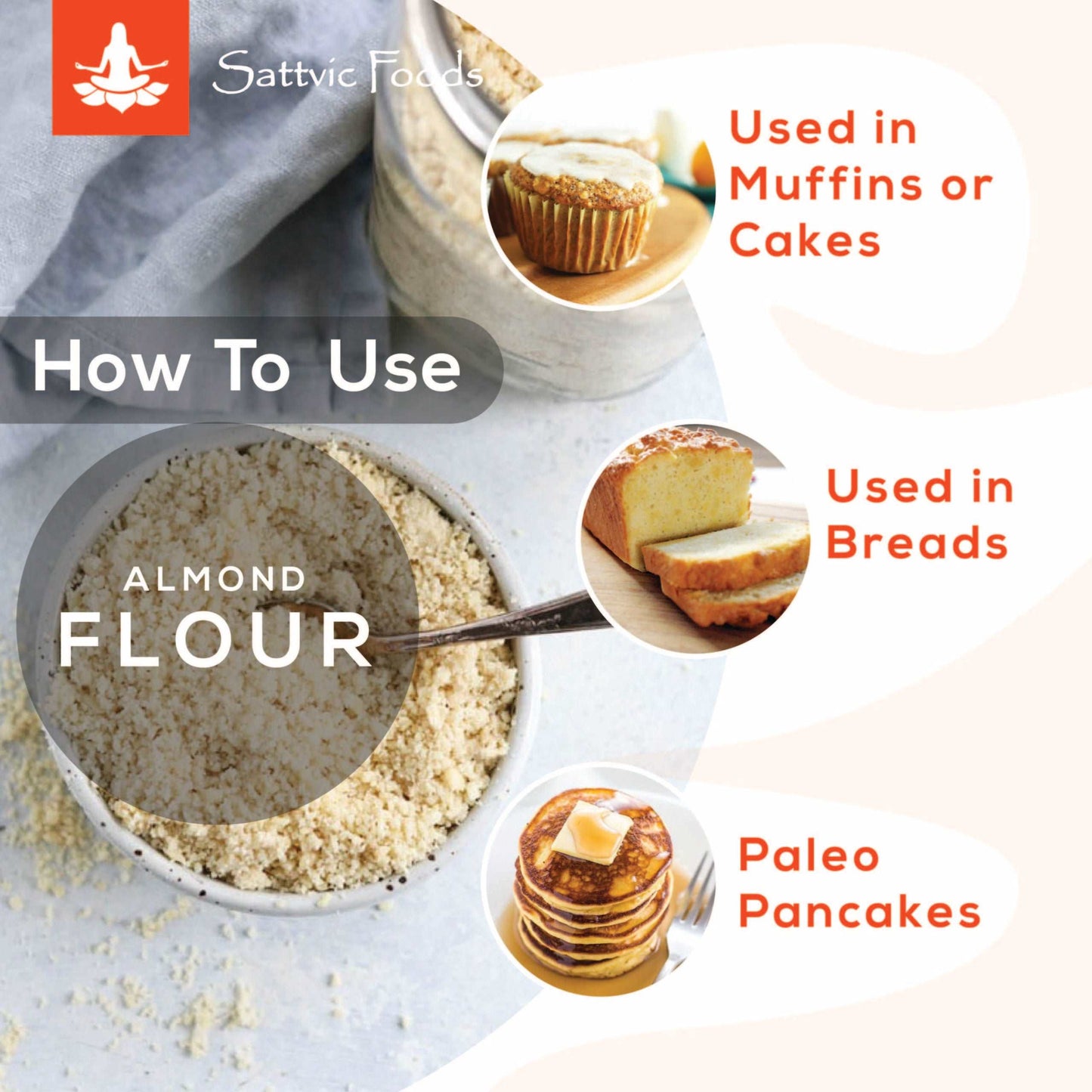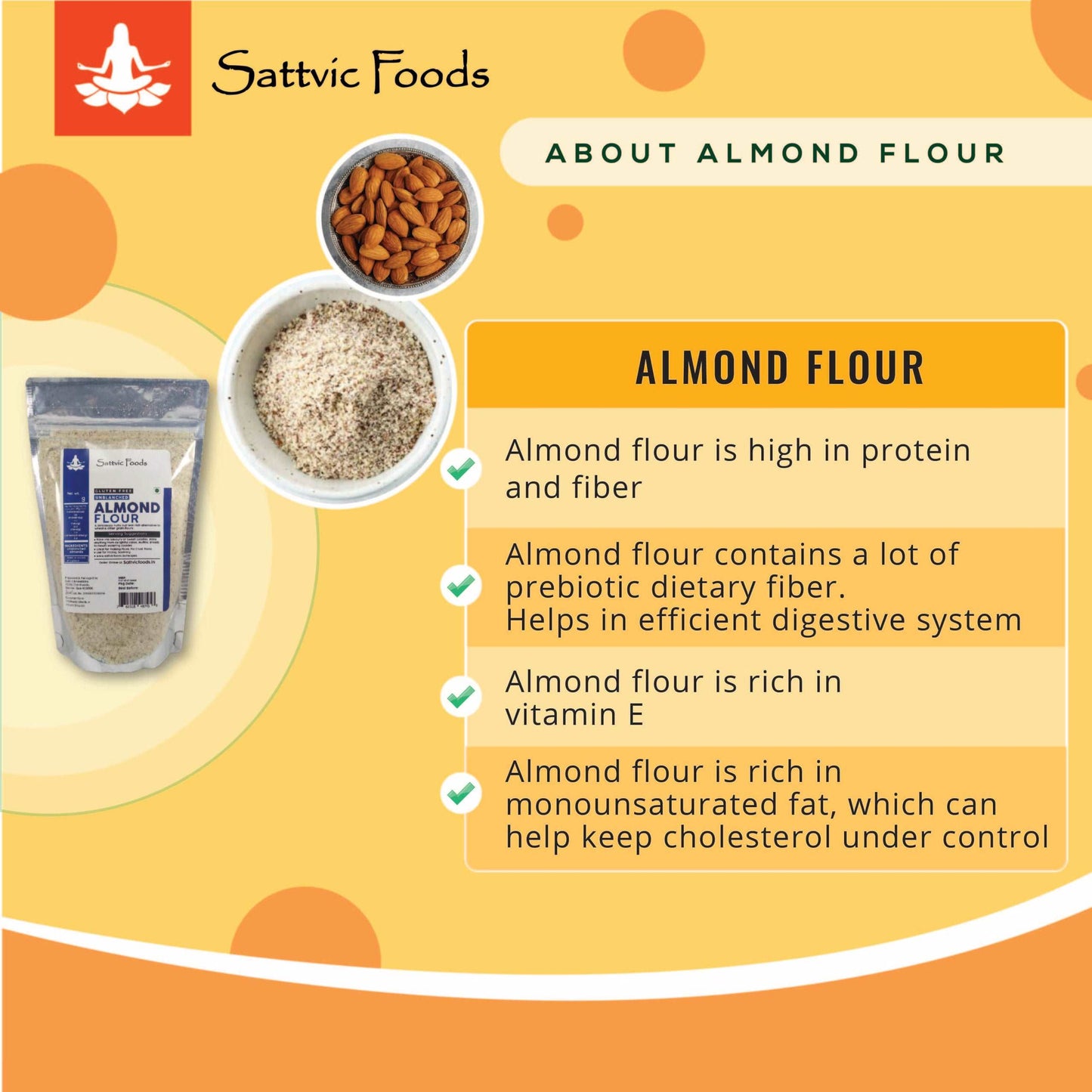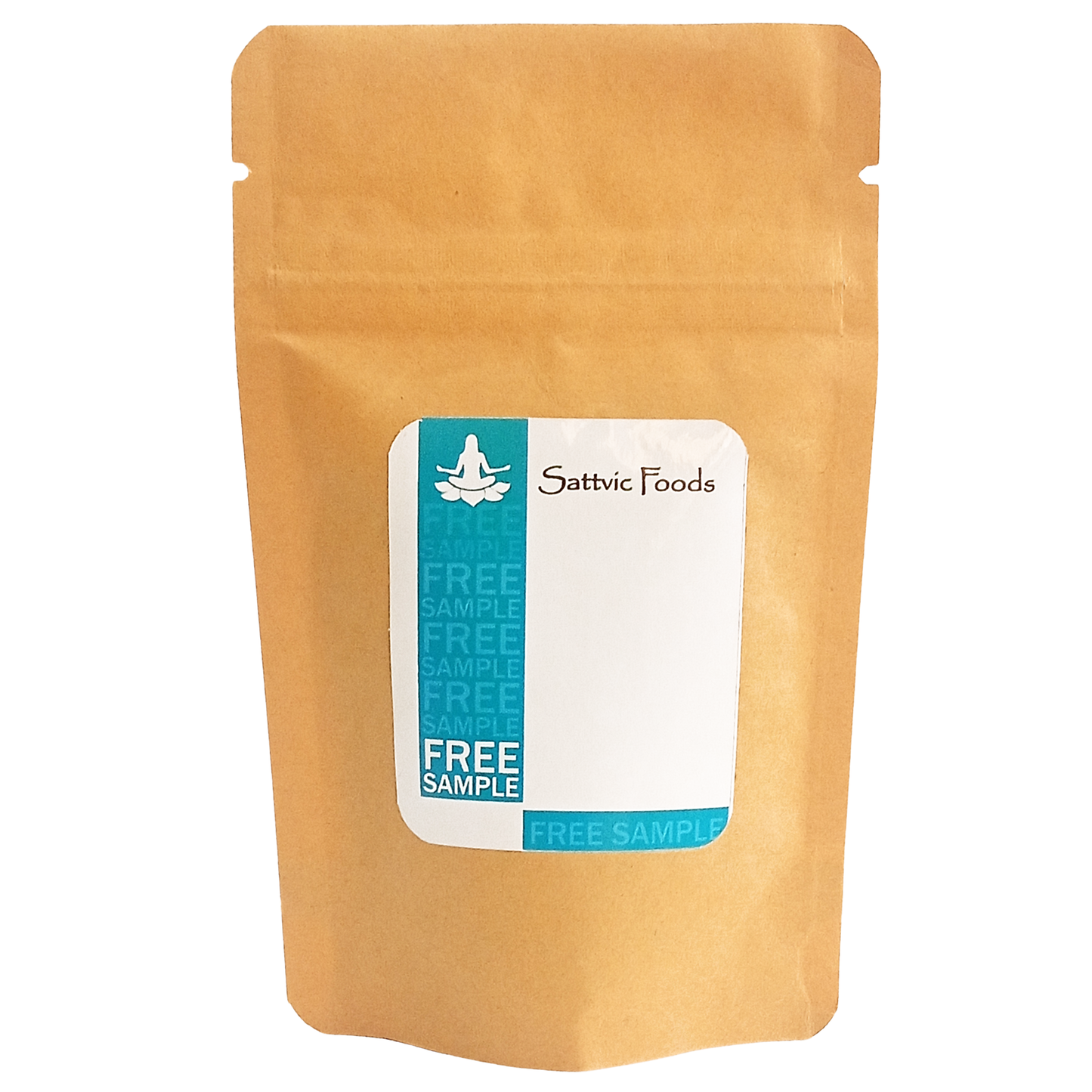 Collapsible content
Delivery Information

Orders are shipped within 2 business days from payment. Delivery ranges from 3-9 days depending on your location.
About Us

Sattvic Foods is committed to your complete satisfaction. We assure you that every purchase is pure and of the highest quality available. If for any reason you are unsatisfied simply email us at info@sattvicfoods.in or reply to your order email.