Regular price
Rs. 200.00 INR
Regular price
Sale price
Rs. 200.00 INR
Unit price
per
Sale
Sold out
Share
About
A rich ruby red concoction can be made from these sepals of the roselle (scientific name Hibiscus sabdariffa) plant. The tea tastes slightly sour, a bit like cranberry juice, and is rich in organic acids, antioxidants, and flavonoids. It boosts immunity, metabolism, and cardiovascular function. Moreover, it is low-calorie and caffeine-free.

Source

Our Hibiscus tea, sourced from Kashmir, is a tangy, delicious, relaxing, nutrient-filled retreat for your mind and body. It has a luscious red colour and makes a great hot tea AND an awesome iced tea! In addition to being caffeine-free, it is rich in antioxidants and flavonoids that give a much-needed boost to your immune system, cardiovascular system, and digestive system. 
How To Use

Warm hibiscus tea: Boil a cup of water and turn off the heat. Add 1 teaspoon of hibiscus tea and leave for 5 minutes, longer for a stronger tea. Strain and consume. Add a teaspoon of honey for sweetness. You can also add lemon juice or mint leaves for added flavour.
Hibiscus Iced tea: Fill a pitcher with water and add 2-3 teaspoons of hibiscus tea, lemon wedges, or mint leaves, and some honey, if desired. Refrigerate overnight. Strain before consuming.
Health Benefits
Helps with Liver function-

 

A rich source of magnesium, hibiscus tea helps in calming the mind and body thereby fighting depression. Hibiscus tea boosts liver function by ridding the body of free radicals.
Helps with Blood Pressure-

 

It is a superb diuretic and makes for a great aid for people with high blood pressure.
Improve Kidney Function-

 

It also helps fight urinary tract infections and improve kidney function with regular use.
Gut Health-

 

It helps relieve constipation and ease discomfort caused by nausea, vomiting, cold, and flu.
PMS-

 

It also has emmenagogic effects i.e. it helps fight PMS and is helpful during irregular periods like PCOS, PMDD, and AUB.
Diabetic Friendly-

 

Hibiscus tea can help regulate blood sugar levels making it a beverage of choice for diabetics. Take a peek at some Suprising Benefits of Hibiscus Tea
Why Buy Ours
Low calorie and Caffeine-Free
No artificial colouring, and is made from real Hibiscus Flower Tea.
Comes in an airtight container.
Caution
Pregnant women or women taking any sort of hormonal treatment should avoid consuming Hibiscus Tea ~ A natural blood thinner, it is not to be consumed when one is taking blood thinner medication or before any surgery ~ Not to be consumed by those with low blood pressure (hypotension).
✔ Free sample is a single serving (3-15 g) for trial
✔ Get a free sample for every Rs. 500 of purchase
✔ Add a product other than items being purchased
✔ Free Sample must be added before Checkout
View full details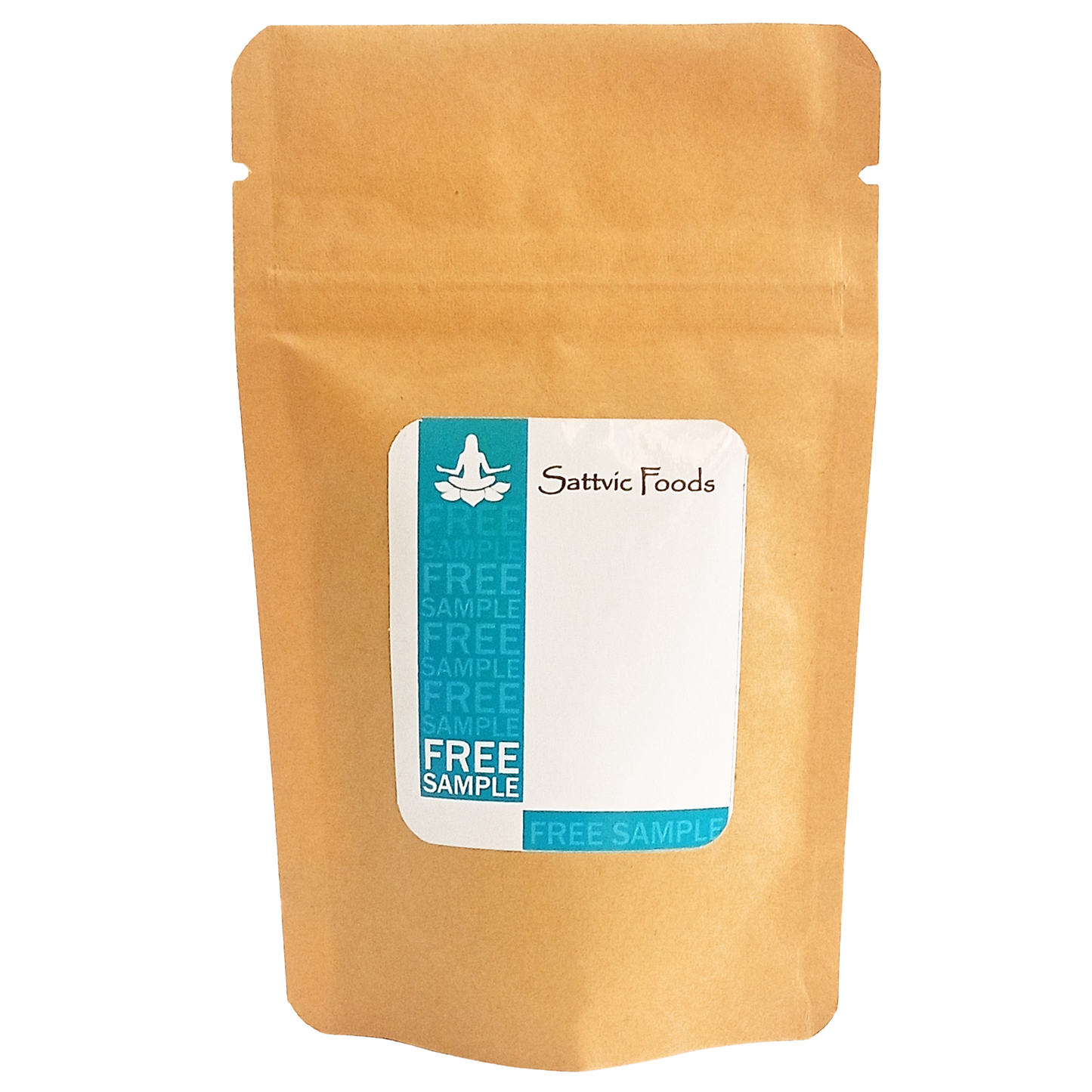 Collapsible content
Delivery Information

Orders are shipped within 2 business days from payment. Delivery ranges from 3-9 days depending on your location.
About Us

Sattvic Foods is committed to your complete satisfaction. We assure you that every purchase is pure and of the highest quality available. If for any reason you are unsatisfied simply email us at info@sattvicfoods.in or reply to your order email.